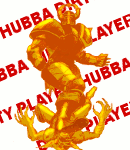 Dirtiest Player award in HUBBA Season 5.
Dirtiest Player award in HUBBA Season 6 with 11 fouls.
A member of the original team. Zestless Redhead isn't very good at the game but has found other ways of making sure she's on the team. While some claim excessive fouling is not something to be proud of, the Nuzzling Necroes management states that all games are played in a professional environment with the highest quality referees, making foul play highly unlikely. They have also hired two lawyers to deal with all liability claims from the other HUBBA teams.
Did You Know:
Zestless considers dying on the field the highest possible reward for a player. That's why she's so eager to selflessly put the boot in on other players. Nuffle be pleased!