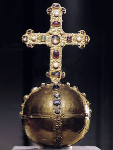 The Holy Roman Empire (HRE; German: Heiliges Römisches Reich (HRR), Latin: Imperium Romanum Sacrum (IRS), Italian: Sacro Romano Impero (SRI)) was an empire (Reich) that existed from 962 to 1806 in Central Europe. It was ruled by the Holy Roman Emperor. Its character changed during the Middle Ages and the Early Modern period, when the power of the emperor gradually weakened in favour of the princes. In its last centuries, its character became quite close to a union of territories.

The empire's territory was centered on the Kingdom of Germany, and included neighboring territories, which at its peak included the Kingdom of Italy and the Kingdom of Burgundy. For much of its history, the Empire consisted of hundreds of smaller sub-units, principalities, duchies, counties, Free Imperial Cities and other domains.

Otto I was crowned King of Germany in 962, but he is nevertheless considered by some to have been the first Holy Roman Emperor (German: Römisch-Deutscher Kaiser) in retrospect, although the Roman imperial title was first restored to Charlemagne. Otto was the first emperor of the realm who was not a member of the earlier Carolingian dynasty.[2] The last Holy Roman Emperor was Francis II, who abdicated and dissolved the Empire in 1806 during the Napoleonic Wars. In a decree following the 1512 Diet of Cologne, the name was officially changed to Holy Roman Empire of the German Nation (German: Heiliges Römisches Reich Deutscher Nation, Latin: Imperium Romanum Sacrum Nationis Germanicæ).[3]

The territories and dominion of the Holy Roman Empire in terms of present-day states comprised Germany (except Southern Schleswig), Austria (except Burgenland), the Czech Republic, Switzerland and Liechtenstein, the Netherlands, Belgium, Luxembourg and Slovenia (except Prekmurje), besides significant parts of eastern France (mainly Artois, Alsace, Franche-Comté, French Flanders, Savoy and Lorraine), northern Italy (mainly Lombardy, Piedmont, Emilia-Romagna, Tuscany, Trentino and South Tyrol), and western Poland (mainly Silesia, Pomerania and Neumark).