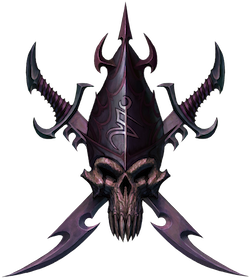 No More Color is a Dark Elf team surveying the land for many years. This team played in famous tournaments, faced the best teams in the Condate league and other greatest blood blowl leagues, and obtained prizes and awards that adorn the trophy room.

Since 2016-01-26, No More Color has been playing in Fumbbl league.

His offensive game is based on a virile and agressive confrontation, even against deemed strong teams. Running the ball and passing it when required. The goal is to score the most TD possible, and send to the infirmary opposing stars.

His defensive play, alternating zone and individual marking, is renowned as one of the most efficient in the league. It is the mark of coatch who heads No More Color since its inception.

The collective takes precedence over individual considerations. To sacrifice for the team is an honor. Many stars have emerged, played and died for No More Color.

10th game : 4 / 1 / 5
20th game : 8 / 1 / 1 Cumul : 12 / 2 / 6
30th game : 6 / 0 / 4 Cumul : 18 / 2 / 10
40th game : 6 / 3 / 1 Cumul : 24 / 5 / 11
50th game : 9 / 0 / 1 Cumul : 33 / 5 / 12
60th game : 6 / 0 / 4 Cumul : 39 / 5 / 16
70th game : 7 / 1 / 2 Cumul : 46 / 6 / 18

Max consecutives wins : 11
Best score : 5 - 0


Position

Name

Status

MA

ST

AG

AV

Skills




Black Domina
In activity
7
3
5
8
Block, +AG, Leap, +ST, Dodge, -ST, Tackle
Shiva Shanti
In activity
6
4
5
7
Frenzy, Dodge, Jump Up, +ST, Block, Tackle, Leap, +AG, -MA
Hindi Kush
In activity
7
4
5
7
Frenzy, Dodge, Jump Up, Block, Mighty Blow, Tackle, +ST, +AG
Northen Light
In activity
7
3
4
8
Block, Dodge, Side Step, Guard, +MA, Diving Tackle, -MA
Double Gun
Dead
7
3
4
7
Dump-Off, Dodge, Leader, Kick, Block
Purple Haz
Dead
7
3
4
8
Block, Dodge, Tackle, Mighty Blow, Dauntless