deckrdshaw



Joined: Sep 25, 2020


| | |
| --- | --- |
| &nbsp Posted: Sep 25, 2020 - 13:38 | |
---
I think the answer is in the context that you're playing in - table-top and presumably your Ranked team with the 2 chameleons. In both you have more latitude to use those skills as you have an idea of how the coaches play (table-top) or can play against a team where shadowing/pass-block have more weight (agility sides). In the box you generally won't get much if any use out of pass block as the opponent's game plan is a running one.

_________________
US Travelers planning to visit Baku can check mandatory information required for applying Azerbijan Visa for US citizens here.
robocoyote


Joined: Oct 19, 2010


| | |
| --- | --- |
| &nbsp Posted: Oct 18, 2020 - 18:45 | |
---
Cold wind blows through the Crypts of the Smack Conference Graveyards. Coach Robocoyote stands alone in the graveyard. The season has gone about as one can expect some wins and some losses. The filthy elves of the Smack dance around throwing Td's and laughing to the stumbling zombies around them.

We need something to further the power of the undead Robo thinks to himself. These elves, lizards, Rats, and Dwarves are not stronger than the hordes of the undead.

As he walks through the graveyard a simple headstone, very unassuming catches his eye. Weird he thinks to himself I've never noticed this stone before. Simple etchings of an old language on the headstone read, "Beware the cursed goblet buried here. The powers of it are uncontrolable by the living."

Robo smiles to himself and begins to dig. Moments later a loud clunk. Pulled from the gravesite a goblet. made of bone and muscle. The decaying hand of some unfortunate soul still holds the blackened beating heart of some foul creature.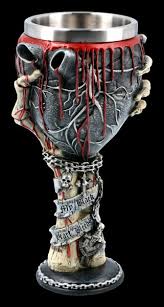 Robo lets loose a maniacal laugh. This must be the item he was searching for. The power of the undead flowed strong within the goblet. Robo reaches out his hand to grasp the goblet and take it as his own.

Crash......... a lightning bolt strikes the ground. A loud voice of unknown origin calls out, "Only a true lord of the undead can hold the cursed goblet that lies before you." Surely there can be none more worthy than I Robo thinks to himself. Who else in the Smack could lay claim to such and artifact of the undead??

A howl is heard in the distance..... Werewolves surely...... Robo looks to his left and there stands Ganthony flanked by his Werewolves and other undead creatures. The loud voice calls out, "Prove to me you are worthy to wield the goblet. Only than shall you be able to posses it."

Robo knows what must happen. The eternal rivalry of the undead.

Coming soon, Beginning Season 37, but starting next week.

Indiana Vs Fresno

The Battle for the Cursed Goblet.